2020 Veterans Day Participation Survey
...
Table of Contents

How many guests do veterans bring?

Why do most veterans spend as much or more on Veterans Day?
On Veterans Day, many organizations celebrate the service our nation's military members have given to our country through the years. These celebrations include ceremonies, events, speeches, and more. Many restaurants and retail organizations also honor our servicemembers by providing them with a free or discounted meal, free car washes or haircuts, or other discounts.
This is a tremendously generous way of saying thanks. But it's also a great way to bring people together to remember that freedom isn't free.
These events are also a great way to engender goodwill among the military community. It's difficult to understand the impact these events have on both the military community and the organizations that provide so much.
We surveyed our readers to better understand:
What percentage of them participate in these Veterans Day offers?
Do they bring guests or spend more than they normally would?
Do they frequent these establishments over the course of the year?
The results were eye-opening and overwhelmingly positive.
We in the military community graciously thank each of the organizations that support the military community. If you run one of these organizations or are on any committees that decide whether or not to offer these Veterans Day deals, we hope the results of this survey show you how impactful these offers are to the military community – and possibly to your organization as well!
98% of Veterans Use Veterans Day Discounts
We asked our readers the following question:
How many Veterans Day offers do you partake of each year? (free meals, discounts, or other offers)
A whopping 98% of our readers indicated they take advantage or at least one offer each year, while 78% take advantage of at least 2 or more offers.
How many offers our readers participate in each year:
0 offers: 2.0%
1 offer: 20.7%
2 offers: 33.2%
3 offers: 21.8%
4 offers: 7.4%
5+ offers: 14.9%
84% of Veterans Bring a Guest With Them When They Eat a Free Meal on Veterans Day
Over 80% of our readers bring at least one guest with them for free meal offers. And one third of our readers bring at least two or more guests with them.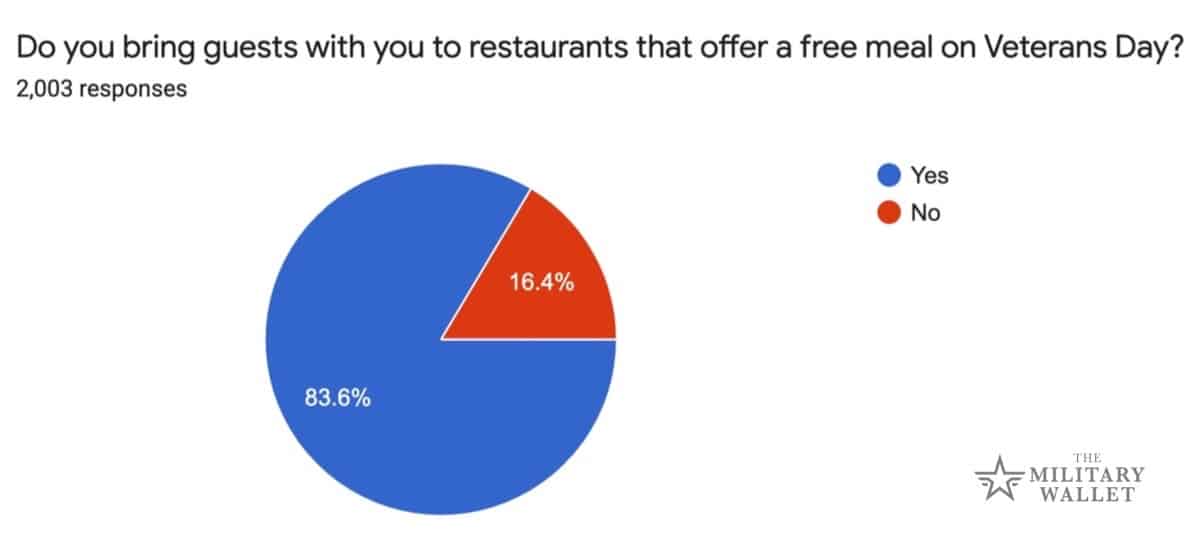 How many guests do veterans bring?
How many guests do they bring?
0 Guests – 14.0%
1 Guest – 53.2%
2 Guests – 19.6%
3 Guests – 7.4%
4 Guests – 5.9%
84% of Veterans Spend As Much More on Veterans Day Than They Normally Would
The majority of veterans (84%) spend as much, or more, than they normally would when they are attending a restaurant offering a free meal on Veterans Day.
52% of Veterans Spend More When They Eat at a Restaurant on Veterans Day
31% spend about the same.
Only 16% spend less than they normally would.
Why do most veterans spend as much or more on Veterans Day?
Veterans Day is a day to celebrate. And going out for a free meal often means bringing family, friends, or fellow veterans. This is a great opportunity to live it up and order an appetizer, dessert, or several drinks to go with your meal. Many veterans also take the opportunity to tip the waitstaff on the full price of the meal (or larger).
98% of Veterans Have a Good Experience at Veterans Day Events
The vast majority of veterans have a very positive experience when attending Veterans Day events or receiving a discount or other Veterans Day offer. These experiences help the veteran and their families remember these organizations fondly – and as you'll see, many veterans frequent these establishments throughout the year.
85% of Veterans Frequent Locations Year-Round – Not Just on Veterans Day
The military community, by and large, is a very loyal and dependable community. 85.4% of our readers frequent establishments that offer Veterans Day promotions year-round instead of just on the day of the event. These free meals and discounts are a great way to bring back repeat customers as well as create a new way to create loyal customers that frequent your business year-round.
Most Popular Restaurants Offering Free Meals on Veterans Day
Each year, we list over 100 restaurants that offer free meals on Veterans Day. These range from local establishments with only one or a handful of locations, through the large national chains with locations in every state. As part of the military community, we all want to thank every restaurant that offers the military community discounts or support.
For fun, we asked our readers which restaurants they have visited in the previous five years. Of course, the numbers will be based in part by how many locations a restaurant has, its proximity to military communities, and other factors. But this is a fun bit of information. And again, we in the military community are humbled by the generosity of all organizations that support us, large and small.
Of note:
Two-thirds of our readers have visited an Applebee's on Veterans Day within the last 5 years.
Roughly one-third or more of our readers have visited Chili's, Denny's, Golden Corral, IHOP, Olive Garden, Texas Roadhouse, or local establishments in the last 5 years.
Again, thank you to all organizations that support the military community!
77% of Veterans Will Participate in a Veterans Day Event This Year
Things are very different this year, with the pandemic putting a damper on many gatherings and celebrations. Even with social distancing keeping many people at bay, only 6.4% of our readers plan to avoid Veterans Day events or offers this year, while 77% have firm plans, and the remaining 16% are undecided.
What Can We Learn From This Survey?
Here are the major takeaways from this survey:
By and large, most veterans (98%) have a great experience during Veterans Day free meals or from other offers.
The military community is very loyal. Over 85% of veterans are return visitors throughout the year.
85% of veterans spend as much or more during Veterans Day offers than they normally would. This includes bringing more guests (84%) and spending more on additional items, such as appetizers, drinks, dessert, or by leaving larger tips.
The majority of veterans participate in these events. Even with the issues we are seeing this year, 77.4% have firm plans for celebrating Veterans Day, with another 16.1% considering attending. The U.S. Census Bureau lists over 18 million veterans in the U.S. (not including family members). This is a very large community of loyal customers.
Survey Methodology
We sent out a survey to our newsletter readers; our readers are all members of the military community – including current military members, retirees, veterans, and their family members. There were 2,003 responses to the survey.
As a member of the military community, I would like to extend our sincere thanks to every organization, large and small, that supports our community. Thank you for your support!