Travel Insurance – Why Military Families Should Consider Buying a Policy
You and your family have been diligently accruing leave for the past year, saving it up for a special (and likely overdue) occasion — vacation!...
You and your family have been diligently accruing leave for the past year, saving it up for a special (and likely overdue) occasion — vacation! But before buying airline tickets, booking hotels, reserving tours, or packing your bags, it's important to consider ways to protect your investment and buy you some peace-of-mind with travel insurance!
Travel insurance can protect you from financial loss in the event of unforeseen circumstances and can help you relax even more knowing that you're covered if the situation changes beyond your control.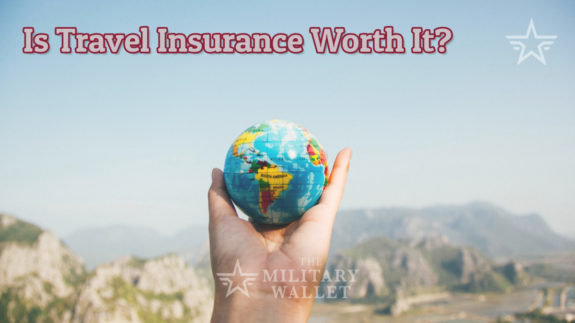 What Is Travel Insurance?
In essence, travel insurance is a purchased plan (or "policy") that offers protection from certain financial risks or losses that may occur while you're traveling. This often includes trip cancellation or delay, lost luggage, or even an overseas medical emergency.
The most popular travel insurance offering is a package or comprehensive plan which usually bundles three types of coverage (financial, medical, and assistance) into a single policy. This type of policy often covers trip cancellation — which helps to protect travelers against losing non-refundable airline tickets, cruises, and hotel bookings — baggage loss, meals, and incidental expenses stemming from circumstances like unforeseen weather events.
Additionally, a comprehensive travel insurance policy frequently covers medical expenses incurred during a trip, such as emergency room visits, doctor bills, medications, and hospital costs.
Finally, services such as emergency medical evacuation — which can easily cost tens of thousands of dollars — emergency legal help, assistance finding last-minute accommodations, and 24/7 travel assistance are often included as well.
Do YOU Need Travel Insurance?
Travel insurance has become increasingly popular, largely due to the fact that more people around the globe are traveling. In 2018, Americans spent approximately $3.8 billion on travel protection products — a forty percent increase from 2016.
Yet, travel insurance is not for everyone, or for every occasion. For example, it usually makes the most sense to purchase travel insurance on big-ticket trips, such as that once-in-a-lifetime European cruise, or a New Zealand honeymoon. Buying travel insurance for quick trips to close destinations, such as your parents' house, might cost more than they're worth.
Before buying a policy, it's vital to ask yourself:

Can I afford to lose the money that I've already paid?
If the answer is "no," you might be a prime candidate for travel insurance.
What's Covered (…and, More Importantly, What Isn't?)
When exploring travel insurance options, the devil is in the details. Unfortunately, travel insurance is more complex than simply "having" or "not having" coverage. Also, it's possible to have a travel insurance policy but not be covered for certain circumstances.
Therefore, the cardinal rule of buying travel insurance is: Read the fine print.
Typical travel insurance policies cover trip cancellation or interruption from the time of purchase to the day of departure for reasons such as sickness, severe weather, unexpected surgery, a death in the family, or job loss. Travel insurance policies also usually cover travel delays (e.g. your 22:00 flight gets canceled due to weather and you're forced to book a hotel, spend money on meals, and buy a new toothbrush or other incidentals) as well as lost, damaged, or stolen luggage.
Key Questions to Ask Before Buying a Travel Insurance Policy
Before shopping for a travel insurance policy, it's advisable to consider a few key questions in order to determine what type of policy you and your family will need. For example:
Does trip cancellation or interruption include active-duty members being deployed, or Reservists being called up, or leave cancellation?
If the policy covers active-duty personnel being sent to a "war zone," how does that insurer define "war zone"?
Do you or your family members have any pre-existing health conditions that may impact your trip?
Will you be engaging in any risky adventure activities (e.g. bungee jumping, paragliding, etc.) that might elevate your need for insurance?
In many of these scenarios, insurers proceed on a case-by-case basis; therefore, it's a good idea to speak with a company representative in order to gain additional clarity on the specifics of policy coverage before purchasing any travel insurance. But be aware that they are salespeople and may not be 100% forthcoming or may not always have the answers you need.
What to Look for in a Travel Insurance Policy
The four most important features of a travel insurance policy for military members and their families are transparency, value, customizability, and cost.
Transparency
A quality travel insurance plan should provide a clear overview of what is covered and what is not. As the insurance industry is not absent of deceptive business practices, travelers are encouraged to review policies in writing. For good measure, it's always advisable to speak with a company representative to ask specific questions about trip cancellation due to changes in orders, leave cancellation, or unforeseen deployments.
Value
Some travel insurance packages might offer a long list of services; however, some of those — such as lost, damaged, or stolen baggage protection — are already covered by the airline, your credit card, or even homeowners' insurance or renter's insurance policy. In order to determine the value of a given travel insurance policy, consider the existing travel perks offered by other services (e.g. airlines, hotels, credit cards, other insurance policies, rental car coverage, etc.) and make sure that you're only paying for the coverage that you lack.
Customizability
Being able to customize your travel insurance plan is of paramount importance to military families in particular. Generic, one-size-fits-all policies offered most frequently by airlines are unlikely to contain clauses pertaining to military duty, meaning that if your trip is delayed or canceled due to unforeseen changes to orders, you will be ineligible to submit a claim. Therefore, purchasing travel insurance from an independent provider is likely the best way to design your own policy that meets your specific coverage needs.
Cost
The cost of a quality travel insurance policy should not be crippling. In general, travel insurance ranges from 4-10% of the total trip cost. While a $500 policy sounds fairly steep for a $5,000 vacation, this is one industry where the "you get what you pay for" maxim holds true. Plans tend to be less expensive if purchased directly from an insurer as opposed to a third party (like an airline), and the cost is based on the length of the trip, age of the traveler(s), and destinations.
The best time to purchase travel insurance is often within two weeks of booking your travel, since events that may impact your trip — such as hurricanes, monsoons, or a global pandemic — can render certain parts of your policy obsolete once they become "known" or "named" events.
A final cost-driver is a "Cancel for Any Reason" upgrade, which travelers can buy in the event that they have to back out of travel plans at the last minute. However, these policy add-ons can be pricey (up to 35-50% more than the cost of regular travel insurance) and often do not promise a 100% reimbursement (50-75% is standard). That said, if a change of orders is possible and the total price of a booked vacation is high, the additional coverage might be worth the expense.
Travel Insurance for Military Members
As our readers know, members of the military tend to be more impacted by last-minute changes to travel plans than civilians. Whether its augmented orders, revoked leave, an unforeseen deployment, or changes in policy, military families often have to remain flexible and have contingency plans at the ready in the event of unexpected changes.
However, before purchasing a policy, be sure to familiarize yourself with your military benefits that may offer similar coverage. Credit cards like Chase Sapphire Preferred and Sapphire Reserve offer complimentary trip protection benefits (but do not cover emergency medical, pre-existing conditions, terrorism, or extreme sport incidences) if you pay for the trip on a credit card, as does the American Express Platinum card.
U.S.-based airlines and hotels often allow members of the military to receive a refund on flights or bookings in the event of a change in orders, but only if the original reservations were made directly as opposed to via a third party. Also, you may want to consider booking refundable tickets if there's a strong likelihood of cancellation; the upfront costs will be higher, but you'll be able to recover some of your original investment if plans change unexpectedly.
If you aren't covered by your credit card or by domestic airline or hotel policies, then you should consider a travel insurance policy if the cost and coverage offer good value. Purchasing a policy can be more important for international travel, as most international airlines and hotels have different policies than U.S.-based companies.
Final Tips
Read the fine print
Know the exclusions (what is not covered)
Use a policy comparison tool and shop around for the best rates
Purchase a policy within two weeks of booking your travel plans
Who Sells Travel Insurance?
Travel insurance is sold by travel suppliers, agents, insurance providers, internet aggregators, and insurance producers. A good starting point when researching insurance options is the U.S. Travel Insurance Association, which not only promotes ethical standards across the industry, but also provides a helpful index of insurance providers on their website. The largest companies in the travel insurance marketplace are Allianz Global Assistance, Travel Guard, and Travelex Insurance Services. Squaremouth is an industry-leading travel insurance comparison tool that allows travelers to input personal and trip information and see all of the options available to them.
In addition to independent travel insurance options, airlines frequently offer to "protect your trip" when passing through the check-out page. Before selecting this option, keep in mind that airlines often use a third-party insurer, such as Allianz or AIG, to underwrite the policy, which can be more restrictive and less customizable than those offered by independent insurers. For members of the military who require more specific terms, such as coverage in the event of leave cancellation or a change in orders, policies from independent providers tend to be favored.
Military-connected families who are members of USAA can utilize their travel insurance tool, which is often selected for its military-friendly policies.
You can also check the following companies for travel insurance options:
Source: https://themilitarywallet.com/military-travel-insurance/