2018 Veterans Day Freebies, Retail Discounts, and Special Offers
Veterans Day is a time to celebrate the service of those who have sacrificed so much to keep us safe....
Veterans Day is a time to celebrate the service of those who have sacrificed so much to keep us safe. While military members don't serve for recognition, it's nice to know that many companies and organizations set aside a day to honor their service.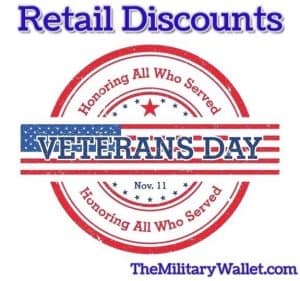 This page lists a variety of Veterans Day offers for our nation's servicemembers – past and present. These offers include free haircuts, free oil changes, free car washes, retail discounts, and much more. There are also tons of free Veterans Day meals and discounted or free events and attractions.
You can download a printable pdf that lists many of these offers and additional information (visit this page for sign up form).
We have done our best to verify each offer and we have provided a link to the company website when possible. Please note that some locations may have restrictions on offers. It is always recommended to call ahead to verify participation and to verify details.
Have an offer to add? Please use our Contact Page. We will do our best to add offers when possible, but please note we cannot list every offer.
Rules of Engagement (Eligibility)
In order to access the generous Veterans Day discounts and freebies below, you'll probably need to provide some form of ID.
Proof of service is recommended! This may include a:
Free Stuff on Veterans Day
Free Vacations and Hotel Stays
Bed and Breakfast for Vets – Free Hotel Stay
B&Bs for Vets has organized dozens of participating Bed and Breakfasts and Inns across the US and Canada which will be offering veterans a free night's stay on and around Veterans Day. This offer is available to both active duty military members and veterans with ID, but space is limited. Each Inn and B&B has at least one room available for this promotion and reservations must be made directly through the participating Inns and B&Bs. For more information visit BandBsforVets.org.

Westgate Resorts – 1,500 Free Vacation Giveaways in Orlando, FL
Westgate Resorts is giving away 1,500 Bookings on www.westgatesalutes.com on November 9, 2018, beginning at 9:00 a.m. EST and ending at 11:59 p.m. EST on November 11, 2018, or until all 1,500 Bookings have been claimed, whichever occurs sooner.
Bookings are on a first come, first served basis. A confirmation receipt with reservation details will be sent to a valid email address upon successful entry to the first 1,500 Bookings.
Note: A One-Hundred Dollar ($100.00 USD) deposit with a valid major credit card is required at time of booking. Deposit will be refunded in-full the day immediately following the day of check-in. Deposit is refundable in-full if reservation is canceled at least seven (7) calendar days prior to scheduled check-in.
Eligibility: The free vacations are specifically for current active duty military personnel, retirees, veterans with an Honorable Discharge that served in any United States government military operations on or after August 6th, 1990, and Gold Star families. For more information, visit www.WestgateSalutes.com.
Travel Details: Offer is valid for a two (2) night stay on May 10 – 12, 2019 for up to four (4) persons at the Westgate Vacation Villas Resort & Spa or the Westgate Town Center Resort & Spa in Kissimmee, FL.
See full terms and conditions, eligibility, and other important info.
Free Gifts from Amazon
$20 Amazon Gift Card When You Open a New Personal Capital Account
Personal Capital is one of my favorite financial tools – you can use it to track your budget, spending, and investments. Simply link your banking and investment accounts and Personal Capital will give you an overview of your current account balances, spending, net worth, and your investment portfolio's asset allocation.
For a limited time, Personal Capital is offering a "Refer a Friend" bonus for new customers. Simply open a new account, and link at least one valid investment account (brokerage, 401k, IRA, TSP, etc) with a balance of more than $1,000 within 30 days of registering. (some terms apply). Click here to register your Personal Capital account.
Personal Capital will then send you a $20 Amazon gift card within six weeks from the date of registration. The gift card will be sent electronically to the email you provided in the registration process. *Full disclosure: Personal Capital will also send me an Amazon gift card in the same amount.
That said, I personally use this tool on a weekly basis to manage my finances and track my investment portfolio. You can learn more about Personal Capital in our review.
Sign up here for the new Personal Capital account and $20 Amazon Gift Card.
Free Book Download
Operation Money: A Financial Guide for Military Service Members and Families will be available for free download on Veterans Day. The book written by Jean Chatzky, best-selling author and financial editor at NBC Today, is a great free tool for veterans.
Free Haircuts for Military & Veterans
Great Clips, Nov. 11, 2018
Great Clips will be offering a free hair cut to Veterans with a twist. If a non-veteran comes into Great Clips on Veterans Day and gets a haircut, they'll be given a card which any veteran can redeem for a free haircut. More info.
Sports Clips, Nov. 11, 2018
Sports Clips is also offering a free haircut on Veterans Day. Participating Sport Clips locations will offer free haircuts to all active duty military and veterans (with valid ID.) For a list of stores offering free haircuts on Veterans Day, please click here.
Free Car Washes
Grace for Vets Nov. 11, 2018
Car washes across the country will be getting in on the Veterans Day action this year. Thousands of car washes across the nation are offering vets a free car wash on Veterans Day. You can find a list of over 3,500 participating car washes at Grace for Veterans.
Free Wedding Dresses
Brides Across America
Brides Across America, a non-profit organization, provides eligible military brides with a free wedding dress. In general, you qualify if you are a military bride/first responder (or the fiancé of a military member or first responder). Participants must attend an event to choose a wedding gown. A $40 tax-deductible registration fee that is paid when registering for the event. The fee covers administrative costs associated with running the event. Brides Across America is a 501(C)(3) non-profit organization. Brides experience financial hardship may contact us about waiving the registration fee.
Veterans Day Discounts
Veterans Day Deals from Amazon
In addition to offering a free download ofOperation Money: A Financial Guide for Military Service Members and Families and a $20 gift card when you open a Personal Capital account, Amazon may offer special discounts on Veterans Day. You can check out more Veterans Day Offers on Amazon here.
Veterans Day Retail Offers & Discounts
Home Depot Military Discount:
Home Depot and Lowes 10% Military Discount Available Everyday. The 10% military discount is available every day for active duty and retirees, but not all veterans. Home Depot makes this offer available to all veterans on major military holidays, including Memorial Day, Veterans Day, and 4th of July. The Home Depot(R) is offering all active duty personnel, reservists, retired military, veterans and their families (with ID card) a 10 percent discount off their purchases in honor of Veteran's Day. Some limitations may apply.
Find Home Depot discounts online
.
Lowe's Military Discount:
Lowe's Companies, Inc. will offer all active, reserve, honorably discharged, retired military personnel and their immediate family members a 10 percent discount on in-store U.S. purchases made during the Veterans Day holiday. The discount is available on in-stock and special order purchases up to $5,000. To qualify, individuals must present a valid military ID or other proof of service. Excluded from the discount are sales via Lowes.com, previous sales, and purchases of services or gift cards. Lowe's offers this discount daily to active duty military members and veterans.
Find exclusive discounts at Lowe's.com.
Mattress Firm, Nov. 9 – Nov. 12, 2018. 20% off any purchase for current and former military members, veterans' families, and first responders. Offer valid in-store with military or first responder ID or online through call or chat. Some exclusions may apply.
Microsoft Office Products – $9.99 (current military members only): The Microsoft Home Use program allows current military members and DoD workers to purchase Microsoft Office for the low price of $9.99. There is also an option to purchase additional products at substantially reduced prices. Please note this offer is only available to current military members, and those who work for select companies and organizations. Learn more about the Microsoft Office military discount.
Musicians Friend: 10% off one item of $199 value or more for veterans, reservists, National Guard, active duty and their immediate family members.
Learn more at the Musician's Friend discount page.
Oakley Sunglasses: Oakley Standard Issue offers discounts for military members and first responders. Receive an additional discount on Veterans Day. Free shipping on orders over $75 and free returns.
Find Discounts at the Oakley website.
Publix, 10% off, Nov. 11, 2018: Military members, veterans, and their families save 10% on groceries on November 11 (proof of service required). This offer excludes prescriptions, alcohol, tobacco, gift cards, lottery tickets, postage stamps, and money services.
Learn more about the Publix discount here.
Rosetta Stone – 10% Military Discount: Rosetta Stone® bills itself the world's best language-learning software. You can buy their programs on disk, download them, or use them with an app. Their military discount is open to all current military, retirees, and veterans.
Learn more at the Rosetta Stone military discount page.
Sears Garage Services, Nov 9-12: 10% Discount on all products and services with a valid military ID. Sears Garage Doors site.
Target – 10% Off, Nov 4-12, 2018: 10 percent discount on purchases, in-store and online, from Nov. 4-12, 2018. Eligible guests can visit Target.com/military to register and receive the discount. (Some product exclusions apply; discount via a single-use coupon).
Tractor Supply Company – 15% discount: This Veterans Day, customers with a valid military ID or proof of service and their dependents will receive 15 percent off their entire purchase at Tractor Supply. This discount will be offered on Nov. 11 and will be available at all of Tractor Supply's more than 1,725 locations nationwide.
Find a Tractor Supply location near you.
Under Armour – 15% Discount: 15% Off for Veterans, Service Members, and First Responders during Veterans Day week (normally 10% through the rest of the year). Under Armour supports the military, veteran, and First Responder communities year-round.
Click here to learn more about the Under Armour Military Discount.
Veterans Day Military Discounts
USA Military Medals, Nov 5-12: USA Military Medals is offering customers 15% off their purchase of Military Medals, Ribbons, Rank Insignia, and More, with a coupon code that will be displayed on their site on those dates. This is a great place to buy military rank, insignia, medals, ribbons, uniform items, dog tags, and similar military gear and memorabilia. They ship fast and guarantee the quality of the items they sell.
Veterans Advantage Discount Program: The Veterans Advantage Program offers nationwide benefits to current and former military members through a membership plan. Members get access to discounts for shopping, restaurants, insurance, travel, and much more. There are three option available for membership and pricing ranges from a one-year membership at $59.95 to a five-year membership at $199.95. Interested individuals can also start a 30-day trial membership for just $4.95. Trial memberships can be canceled at any time.
Veterans Day Hotel Discounts
Hyatt Military Discount – 10% to 15% Off: Available to individuals who have served or are currently serving in any official government-sponsored branch of the United States armed services and their immediate family members. Valid at any participating Hyatt-branded hotel in the United States with offer code MILVET*. (Coupon code will be in effect indefinitely). More info.
Red Roof Inns: Red Roof Inns offers several ways to save. 10% discounts for military, family members, and government employees under certain circumstances. Save up to 20% Off year-round with Veterans Advantage membership. Learn More at the Red Roof Inn Military Page.
Limited Time 20% Discount: Home for the Holidays Military Discount for Active Duty Members and Veterans. Use discount code VP623095. Available for all active duty military and veterans when they book from November 1 – December 31, 2018, and complete their stay by February 28, 2019. The Home for the Holidays rate is only available when booked online at redroof.com or by calling 800.RED.ROOF (800.733.7663). The discount can be applied at any Red Roof Inn, Red Roof PLUS+ or The Red Collection properties. *May not be combined with any other discount or offers. May not be available on high demand nights. More info.
Super 8 Hotels: 20% discount off your next qualified stay at participating Super 8 hotels, plus 500 Wyndham Rewards bonus points.* Offer valid for any current or retired military personnel, veterans, and their families who book and stay at participating Super 8 hotels in the U.S. and Canada. New bookings only made through October 16, 2018, and December 11, 2018. Must book through a Wyndham direct booking channel for 500 bonus points. More info.
Source: https://themilitarywallet.com/veterans-day-retail-discounts/