T-Mobile Military Discount Program – Big Savings for Military Members, Veterans, & Their Families
T-Mobile is the nation's third largest cell phone provider.But they also happen to offer the ...
T-Mobile is the nation's third largest cell phone provider. But they also happen to offer the best military discount on cell phone plans. The T-Mobile military discount is available to both current and former military members, as well as their family members when the additional phones are included on the military member or veteran's plan.
Perhaps the best part about the T-Mobile military discount is that it applies a 20% discount to their flagship plan, the T-Mobile ONE Plan, which features unlimited talk, text, and data, unlimited in Mexico and Canada, works in many overseas locations, and even includes a monthly Netflix subscription. To top it off, the savings are greater when you add more phones (half off the next five lines, compared to standard pricing).
Overall, this is a great plan, at a great price.
Let's take a look at the T-Mobile Military Discount, including features, cost, and eligibility.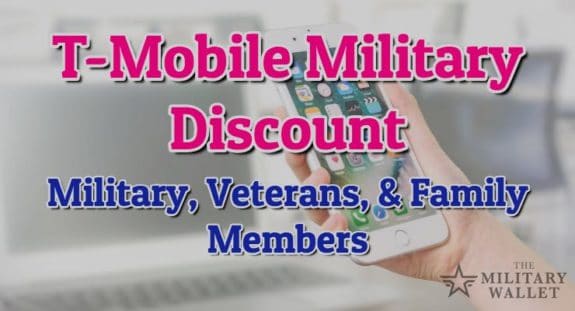 T-Mobile Military Discount on the T-Mobile Military One Plan
The T-Mobile military plan is really a discount on the T-Mobile ONE Plan, which is their premium monthly plan.
Here is what you will get with the T-Mobile Military One Plan:
Unlimited talk, text, and data.*
Unlimited in Mexico and Canada. To include talk, text, and up to 5GB of 4G LTE data.
In-Flight texting + 1 hour of data. On all GoGo®-enabled flights to, from, or within the U.S.
Mobile hotspot data included. Keep all you data connected at max 3G speeds.
Stream unlimited entertainment. Video at DVD quality, 480p.
Taxes and fees included. (no surprise fees on your monthly plan bill).
Texting and data abroad, including unlimited text and data roaming and flat-rate calling in more than 140 countries.
Free Netflix Standard subscription – Standard 2-screen subscription for almost any device, even TV.
(Legal speak from the T-Mobile website): *On all T-Mobile plans, during congestion, the small fraction of customers using >50GB/mo. may notice reduced speeds until next bill cycle due to prioritization.
Visit the T-Mobile website for a full rundown of features and pricing.
T-Mobile Military Discount Eligibility
The T-Mobile website states the military discount is available to all active duty service members, veterans, retired military personnel, members of the Army Reserve or National Guard, and Gold Star families. The discount also will be available to veteran-owned businesses.
There are a couple notes regarding eligibility:
The military member or veteran must be the primary account holder & account must maintain a valid military line.
T-Mobile for Business customers are eligible up to 12 lines; however, government accounts are not eligible.
No Credit Check and Prepaid customers are not eligible.
You will need to provide proof of military service within 45 days of opening your new T-Mobile account, or otherwise applying for the military discount.
Your plan will revert to the T-Mobile ONE at an additional cost of up to $20/line per month if you are unable to or fail to provide your proof of military service.
How does T-Mobile verify military status or military service?
The T-Mobile website states they will accept any document that proves the customer is serving or has served in the US military. The form must include he veteran's first and last name, valid dates of service, and/or status, for example active duty, or a veteran (with an honorable discharge).
T-Mobile will accept numerous forms of verification, but the most common documents are DD214, leave and earnings statement, and military orders.
What do I do if my military status changes?
This offer is open to current and former military members, so you will not need to contact T-Mobile. Your eligibility will remain intact and you will not need to change your plan. T-Mobile ONE Military is available to all military, veterans, National Guard, Reserve, and Gold Star family members.
T-Mobile Military Pricing
The most important thing to know about this military discount is that it is a permanent discount. This is not a promotional discount. Of course, things are subject to change. So it never hurts to take advantage of great offers when they pop up.
The T-Mobile Military Discount is on the T-Mobile ONE plan. Here are the current rates (and remember, unlike most cell phone carriers, T-Mobile plans include all taxes and fees).
Here are current rates with AutoPay enabled (lines cost $5 more per month if you do not enable AutoPay):
Line One – $55 (20% off standard pricing)
Line Two – add $25 (50% off standard pricing)
Lines 3-6 – add $10 each (50% off standard pricing)
Again, the price you see is the price you pay. All taxes and fees are included.
T-Mobile May Even Pay Off Your Current Phone or Early Termination Fees
T-Mobile is doing their best to grow their customer base. And they don't want something like a cell-phone contract to get in the way of adding customers. So they are willing to pay your early termination fees if you need to break your contract to change carriers.
Get a new phone and we'll pay off your current phone and service contracts – up to $650 per line or $350 in early termination fees, via prepaid card when you trade-in your device.
As you can imagine, there are some terms:
Limited-time offer; subject to change. Eligible device trade-in, new device purchase, qualifying credit, port-in from eligible carriers, and qualifying service required. Payments consist of (1) credit for device trade-in and (2) virtual prepaid MasterCard® Card in amount of carrier's Early Termination Fee or remaining device balance, including lease purchase option if applicable, minus trade-in credit (expires in 12 months). Tax excluded. Submit proof of balance (limit $650 per individual) & 90+ days with carrier within 30 days of port-in and be active and in good standing when processed; allow 8 weeks. We might ask for more information. Up to 5 lines; must be activated in same market with same billing address. One offer per subscriber. T-Mobile Prepaid MasterCard Card is rebate/reimbursement or exchange on new device, service, or port-in; for any tax implications, consult a tax advisor. No money has been paid by you for the card. […]
Visit the T-Mobile website for more details on the T-Mobile Military Discount Plan.
How Much Can T-Mobile Save You?
T-Mobile claims their current military discount can save a family of four $764 compared to Verizon's military discount program and $665 compared to AT&T's military discount. Of course, your savings will vary based on your current cell phone plan and the number of lines you add.
As with all offers, it's a good idea to run the numbers to see which carrier is the best for your needs.
For my current situation, my wife and I would pay a comparable amount per month for the cell phone line (actually $5 per month cheaper with T-Mobile). But we also subscribe to Netflix and pay that out of pocket. So we would save an additional $10.99 per month on the Netflix subscription.
$16 per month works out to $192 per year, which is a decent savings.
We could possibly save more than that, because I pay $10 a month on a mobile hotspot through T-Mobile. Under the T-Mobile military discount, you can use your phones as a hotspot. So I may be able to save around $312 per year.
Now we're talking real savings!
The only downside? I would need to buy two new phones, because my wife and I have Sprint phones, which are on a different network. AT&T and T-Mobile use the GSM network, and Verizon and Sprint are both on the CDMA network.
So I need to check with my wife and see if we wan to buy new phones and switch networks. Buying new phones will delay the payoff, but it should equal out over time.
Should You Switch to the T-Mobile Military One Plan?
Overall, I have to say that T-Mobile offers the best bang for your buck out of all the major cell phone carriers. Their military discount is also the most generous our of all the cell phone providers.
Is it right for you?
Only you can answer that.
I recommend looking at several factors:
How the T-Mobile network is in your area
The monthly cost of the T-Mobile Military One Plan compared to your current plan
Other potential cost savings (Netflix subscription, being able to use your phone as a mobile hotspot, unlimited talk, text, and data, etc.)
Additional features – unlimited text and data overseas, unlimited media streaming
Whether or not you would need to buy new phones
Whether or not T-Mobile will assist you with buying out your current contract
Overall, I'd say T-Mobile will work for a lot of folks. But in other cases, you may currently have a better or more const-effective plan. If so, stay with what works.
Visit the T-Mobile Military Discount Page to Learn More.
T-Mobile Military Discount T-Mobile Military Discount - Available to Military Members and Veterans! Click to learn more.
Full Disclosure: We earn a commission if you click this link and make a purchase, at no additional cost to you.
Source: https://themilitarywallet.com/t-mobile-military-discount/